15 Feb 2021 News Naver "Dreamcatcher, their dream came true, #1 on Billboard's Next Big Sound [Official]"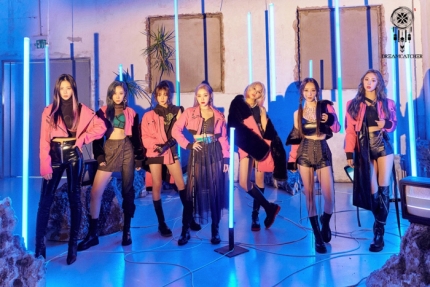 Reporter Ahn Byunggil
The group Dreamcatcher has topped Billboard's Next Big Sound chart, evidencing the fierce love they are receiving from global InSomnias.
According to Dreamcatcher Company, Dreamcatcher rose to #1 on Billboard's Next Big Sound chart for the second week of February, showing off their undying popularity.
Billboard's Next Big Sound chart is a weekly chart that focuses on new and rapidly growing artists all around the world through the web. In Dreamcatcher's particular case, it is more meaningful as they are the first k-pop girl group to achieve this feat.
The analysis of this achievement is highly based on active online communication with their fans, which appropriately matches the era of untact*. Dreamcatcher is drawing the love of their InSomnias as they have showed their performances of "Odd Eye" on music programs, as well as releasing various online content.
In addition, Dreamcatcher has broken a variety of their own records with their new mini-album. 'Dystopia : Road to Utopia' has ranked first on the iTunes Worldwide Chart, and they have established themselves as a popular girl group by surpassing 100,000 albums sold on the Goan Chart.
Dreamcatcher has finished their promotions for their title song, "Odd Eye" from 'Dystopia : Road to Utopia'. Thanks to the strength gained from the fierce love that their fans all over the world have shown them for this release, Dreamcatcher has raised expectations as they are preparing a new present for them.
*T/N: Untact is a term to mean the opposite of contact, and it refers to non-face-to-face communication, especially as it applies to the circumstances surrounding the COVID-19 pandemic.
Source: news.naver
Translation by 7-Dreamers jiulily
Please do not take translation without credit