19 Feb 2020 Newsen Interview Dreamcatcher "When hurt by hate comments, we overcome that through our fan's cheers" [EN:Interview①]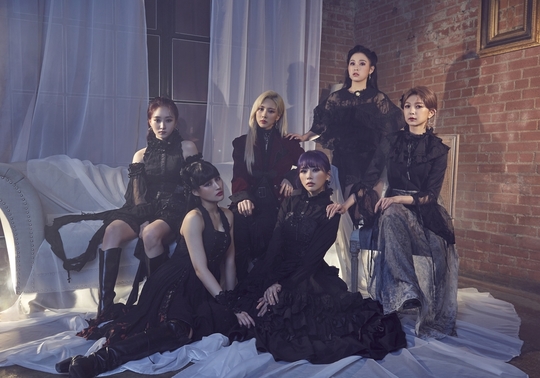 [NewsEN Reporter Lee Hana]
The group Dreamcatcher (JIU, Sua, Siyeon, Handong, Yoohyeon, Dami, Gahyeon) opens their new world with messages filled with social criticism.
Dreamcatcher released their first studio album "Dystopia: The Tree of Language" at 6PM on February 18th. Their first studio album comes after 3 years since their debut and signals the beginning of their new world following the conclusion of the "Nightmare" series that they have continued up till now.
"We've released 7 albums in the 3 years since our debut, and I'm happy that we're releasing our most satisfactory album yet after 3 years. I'm so glad that we can give our fans lots of good music," JIU said, excited.
Including their lead track "Scream" as well as previous fan songs and the Siyeon solo track released beforehand, the album contains 14 tracks. In particular, Siyeon's solo track "Paradise", released in January as a digital single, hit second place on the US iTunes K-Pop chart, trailing only BTS' 'Black Swan'.
"I couldn't even imagine doing a solo track. According to our composer, it was because I did better than expected on the show "V1″. I think they saw my potential there," said Siyeon, adding that "I didn't expect such results (from the track), either. It's all thanks to our fans. It was meaningful to see my first solo track released to the world."
'Dystopia', Dreamcatcher's new world, means the anti-utopia. As the title implies, Dreamcatcher depicts a world darkened by language scarred with wounds in a uniquely Dreamcatcher way.
The lead track 'Scream' uses the witch hunt, something not limited to the middle ages but continues to this day, to convey a heavy message. "This album has a societal aspect. In today's world, there are lots of cases where people get hurt by hate comments. We used a tree to represent that. The tree bears black fruits when it hears negative words and bears white fruits when it hears positive words," JIU explained.
JIU went on to say that "Dreamcather always strives to give you new lyrics and new images. We thought about what we should do this time, and decided to talk about hate comments and language in general," stating that "Our profession means it's easy for us to be hurt by hate comments. We wanted people to sympathize with the issue and to think about it together," explaining how they came to choose their topic.
For entertainers, hate comments are inescapable. As the members have also been hurt by hate comments in the past, they could approach their lead track 'Scream' with more sincerity.
"I do get hurt when I read hate comments, but I try to only read the positive posts. I also find comfort in the people around me," said Dami, explaining how she copes with hate comments. Gahyeon said "It's worse for people to be indifferent. I try to keep a positive outlook," revealing her maturity.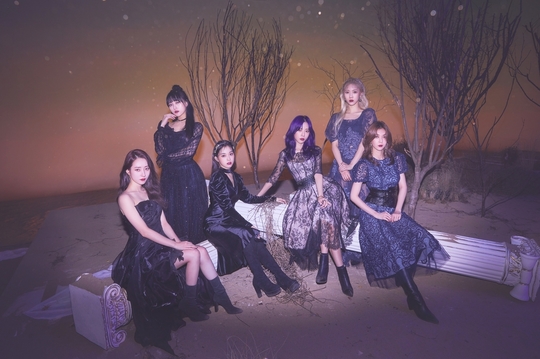 When asked if there was a particular comment that comforted them, the members chose comments from fans that said they had gotten strength from their music. Sua said "Positive comments outnumber hate comments, so I feel comforted by the sheer amount. I think, 'this is the majority opinion.'"
Yoohyeon said "There are fans who give us long letters. When I read that we gave them strength in their struggle with depression, I resolve to stay strong even when times are tough."
The mysterious tree, elderly person, the girl and mask are all part of Dreamcatcher's sharp message towards society. They want to touch on more diverse topics starting with this album, says Dreamcatcher. "As we are using the dystopia as our theme, there's going to be a lot to talk about. Since there are lots of people who are hurt by hate comments, we wanted to do a deep dive through that," JIU said.
"If there is a dystopia, there's a utopia too. I want us to show what differentiates dystopia from utopia," Yoohyeon hoped.
Though the pressure was high preceding the release of their first studio album, Dreamcatcher hoped that the album would be remembered as one that satisfied in both intense concept and message.
JIU in particular said "We hope this album allows us to give back to all the people who helped Dreamcatcher," adding that "As Dreamcatcher, we've been given so much. I want us to succeed so that we can provide for our staff and fans who have gone through so much with us."
As they wait for the release of the album, Dreamcatcher is more confident than ever before. They say the lead track "Scream" got all the elements – the music, performance, and the costumes – right.
"Even before the release, our fans' expectations are soaring higher than ever before just from the Highlight medley and the dance preview. It's an addictive stage that keeps you watching when you watch the performance with the song. I want to hear that it was even better than what they expected," Sua hoped.
JIU said "I'd love it if our fans in all countries enjoyed our album. I want it to be an album that is accepted by fans all over the world," and then said "It wasn't just us members, our company staff were also anxious to release the teasers. We were filled with hope. We're filled with confidence that Dreamcatcher will grow a lot with this album."(Photos courtesy of Dreamcatcher company)
NewsEN Lee Hana bliss21@
Please do not take translation without credit