19 Feb 2020 Newsen Interview Dreamcatcher "Metal-rock again? It is our color we won't abandon" [EN:Interview②]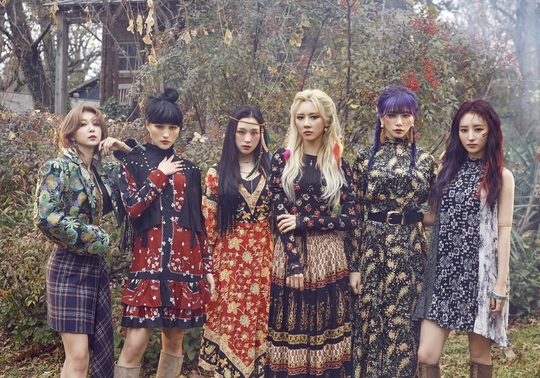 [NewsEN reporter Lee Hana]
Since the release of their first single 'Nightmare' in January 2017, Dreamcatcher has presented 'metal/rock' as their genre, becoming a trailblazer in the girl group market traditionally divided between 'pure' and 'sexy' concepts.
As with their previous tracks such as 'YOU AND I' and 'Chase Me', Dreamcatcher chose rock-metal as their genre.
'Scream', the lead track of their first studio album "Dystopia : The Tree of Language", released on February 18th, attempts to incorporate electronica sounds on top of a rock basis. They remained true to their signature rock sounds, while expanding their genre spectrum at the same time.
Regarding why they chose rock again, Sua said "Dreamcatcher's fundamental color is metal-rock. It's impossible for us to abandon our color." "We wanted to incorporate sources that the public would be more familiar with on top of rock, so we tried to mix in electronica sounds. It came out great, imposing and powerful," she added.
Dreamcatcher hopes to continue exploring new genres on top of their rock basis. Sua said "It might be good if we tried mixing in one new genre at a time," explaining that "There's a B-side track called 'Jazz Bar', and I think it would be really fresh to incorporate Jazz with Rock. It's hard to imagine, but they could unexpectedly work well together."
JIU said, "I want to try mixing in City Pop. City Pop has a dream-like sound to it. Mixing in powerful guitar sounds with the voices of the members would be very different, so I want to try it."
Dreamcatcher's rock sounds go hand-in-hand with their music videos that feature the members and their powerful performances. While Dreamcatcher has presented highly produced music videos filled with various symbols, they confessed that the new music video had not only been high in production value, but also in the amount of effort that the members had to put in.
"We filmed in a dust bowl, basically," said Sua. "To give our dance that dramatic flair, we used industrial fans to spray sand. We had to keep our eyes open and perform live in sandy winds and it was so difficult. Everyone had swollen throats after the shoot."
Gahyeon also said "After the shoot, all of the members had gray eyelashes. All the glitter in the music video is actually dust," reminiscing about the filming.
The performance accompanying 'Scream' is also notable. Sua said "For the first time, we have dancers on stage with us. We have dance breaks and a multitude of point dances. It's a hard choreography because it's such a fast beat, but it's so cool. Please look forward to our stages," Sua told us.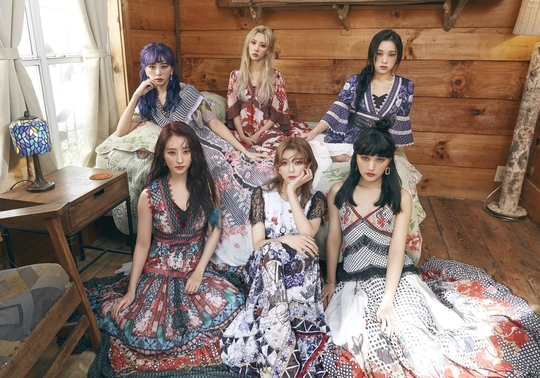 As Dreamcather continues with their well-defined world-building and signature performances, more girl groups have become envious of the team. Siyeon said "We've been told that they're nervous about going on stage after us. It puts some pressure on them. I felt proud."
Dreamcatcher has also been met with positive reception overseas. They toured overseas, going through Asia, 7 European countries as well as 5 US cities to meet fans there.
When asked about why they were so popular overseas, Dami guessed "I think it's for the same reasons that our domestic fans like us. We have strong performances and interesting storytelling elements. Our story isn't cliched and requires people to think about it, which I think our fans overseas like."
Yoohyeon said "There are a lot of bands overseas. I think they like that our music incorporates a lot of instrumental sounds."
Due to their memorable concept, each album has required much thought to produce. Still, all the members agreed that they did not want to abandon Dreamcatcher's signature world building. "Other than our dark look, we do think about wanting to show people our brighter side. But when we think about how each member fits into our story, we end up keeping our concept," Sua said, and told us that "We put in more effort into the story with each album."
"Each new world we depict is like publishing a children's book. This is just the first installment in this world, so we hope people look forward to our future concepts," JIU hoped.
Dreamcatcher also voiced their satisfaction regarding their nickname, 'Metal girl group'. Sua said "I want us to keep nicknames like that. To continue down one genre with persistence is a hard feat."
Siyeon added that "People gave us the nickname 'goosebumps idol' during our early days. I want us to keep that nickname too. I want people to get goosebumps when they see us perform," revealing her ambitions. (Photos courtesy of Dreamcatcher company)
NewsEN Lee Hana bliss21@
Please do not take translation without credit